First of all, I cannot take credit for the title of this post.  Jenny from Meanwhile, back at the ranch… helped me out when I had title writer's block.  "Redneck Napkin Rings"  just barely won out over "Plumbing Supplies as Table Decor" 😀

Need napkin rings, or just a quick homemade gift idea?  Are you a do-it-yourself type of person?  Great!  Hold on a second while I dig around in our old storage shed and rustle up some supplies.  It'll take me just a minute.  There's got to be something in all this cool stuff that'll do the job – wooeee!  Got it!
(If you want to skip the how-to and go straight to the decorating fun, check out my guest post at Smockity Frocks.)
Gonna stick around?  Yeehaw!  You might think I'm plumb 😉 crazy, but I'm about to show y'all how to turn this plain ol' pipe
into these handy napkin rings!  Ain't they purdy? They are really sturdy, too. Hey, that rhymes… purdy sturdy!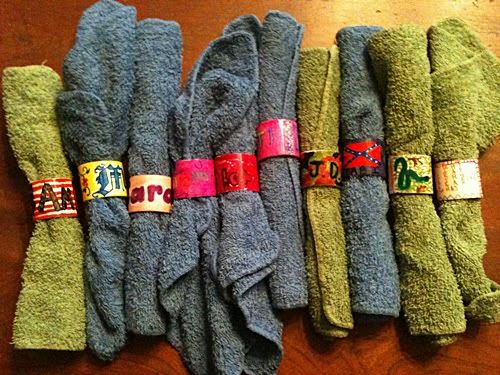 Here's my fancy Russian napkin ring that I used to measure the PVC to make sure I got the diameter right.  Perfect!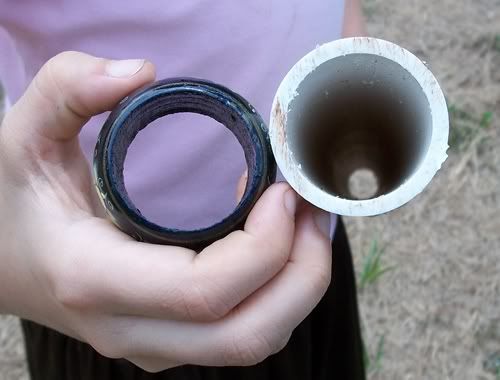 All right – now for the nitty gritty business (and it is – just a little) of how to make these napkin rings.
You will need:
a length of 1-1/4″ diameter, schedule 40 PVC pipe
a hand saw – PVC saw works best
measuring tape
220 grit and 100 grit sandpaper
000 or 0000 steel wool
Step 1 – Measure and cut the PVC into 1-1/2″ lengths

After my handy dandy helper Beth snapped this picture, she held down the other end of the pipe.  It would probably be easier to clamp the pipe in a vise.  Saw through the pipe, taking care to keep the saw perpendicular to the pipe and cut at a right angle. If you want fancy angled napkin holders, go right ahead and cut 'em crooked on purpose!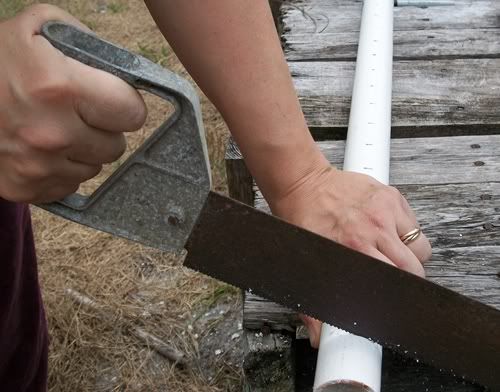 There ya go – all ready for sanding.
Step 2 – Sand and polish the pieces to a smooth finish
Use the 220 grit sandpaper first, then follow up with the 100 grit.  The sandpaper will take the blue lettering off of the PVC, and the rough shavings off the edges, making them somewhat rounded. This was easy for my children to do.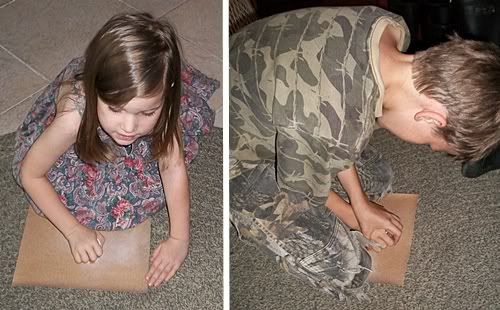 Everyone worked hard to get their ring ready to decorate. I imagine you could use files and tools to design scalloped or notched edges if you want, but I haven't experimented with that yet.
Although we had some cleanup afterwards, we did this in the house because it was just TOO HOT to be outside! My son checks the edges to make sure they are nicely rounded.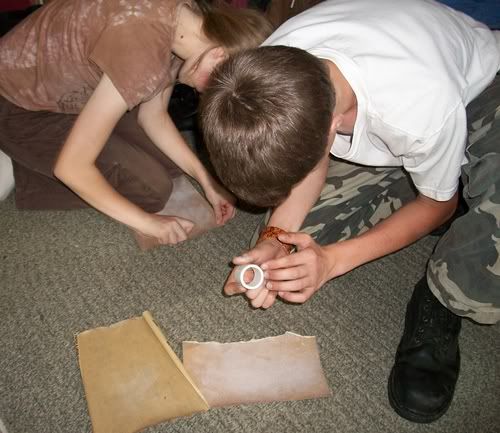 After we used the sandpaper, the surface seemed smooth enough to the touch, but a decorating test run with bleeding colors revealed tiny lines.  We grabbed some 000 steel wool from my husband's woodshop, and a polishing run with that made the difference.  An adult or older child should do this step and please take note of the warnings in the picture!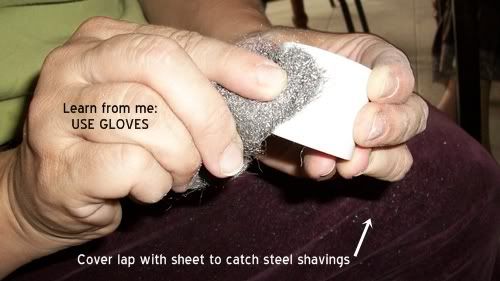 Step 3 – Wash and dry napkin rings to remove sanding dust.
You can wash them in a sink, or just wipe with a damp cloth and dry.
Step 4 – Decorate the napkin rings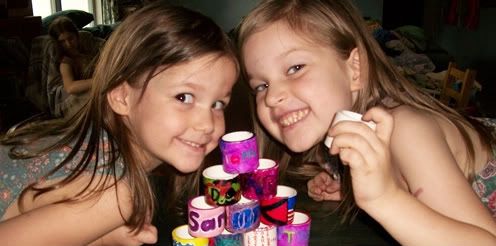 Almost done!  Hop over to my guest post at Smockity Frocks for more and the best part – decorating!!