Shortly after I developed my original granola recipe, I purchased a copy of Nourishing Traditions
and learned about soaking grains and nuts for better assimilation and digestion.  After a few months of soaking different grains and nuts to test if they benefited our family, I began working on a soaked version of my granola recipe.  This is a deliciously crunchy granola with clumps that stay together even after being doused in milk or kefir.
For the whey in this recipe, you can make it by draining yogurt, kefir or buttermilk overnight through a fine cloth or yogurt cheese funnel over a bowl.  The clear, yellowish liquid whey will drain off, leaving you with a delicious creamy cheese – my family loves to mix it with honey and spread on toast.  The whey can store for a long time in the refrigerator.  (If you have dairy allergies in your family, you can use fresh lemon juice instead of whey.)
Because it is not essential to the success of this recipe, I did not list that most of the ingredients I used were raw and/or organic.  I drained my homemade kefir to get the whey, and used fresh eggs from our chickens. Any "real foodie" who reads this recipe will know exactly what to use! 🙂
Ingredient List:
12 cups medium rolled oats
1 cup whole wheat flour
½ cup whey (or buttermilk, yogurt, or fresh lemon juice)
3½ cups water
2 cups whole almonds (or other whole nuts)
1 Tbsp. real salt
water to cover
2 cups shredded unsweetened coconut
1  Tbsp. cinnamon
1 cup honey
½ cup coconut oil (or melted butter)
2 eggs, beaten (can omit, but this is the secret to clumps)
2 tsp. vanilla
Step 1 – Soak the oats and flour. Mix the rolled oats, whole wheat flour, whey (or other soaking medium) and water together in a large bowl.
Step 2 – Soak the nuts. Mix the whole nuts, salt, and water to cover in a medium bowl.
Cover the oats with plastic wrap and set both bowls aside for 12-24 hours.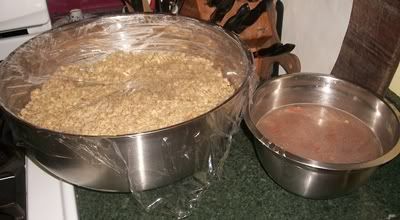 After soaking, the soaked oats and flour will really be stuck together, and may smell a little fermented on the top.  This is OK.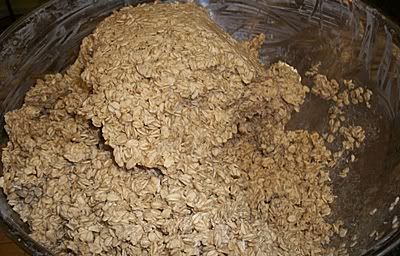 Step 3 – Drain and chop the nuts. After soaking, the nuts will double in size.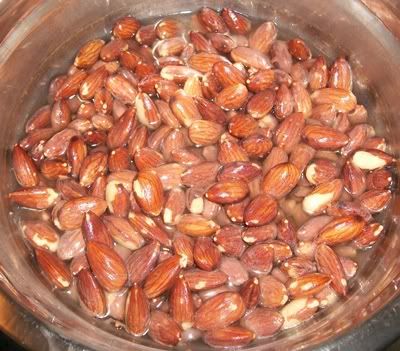 Drain the nuts well through a colander, then chop as finely as you like them.  Add to the bowl of soaked oats.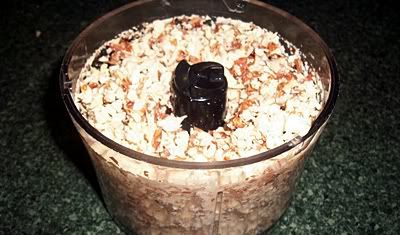 Step 4 – Add coconut and cinnamon. Mix coconut and cinnamon together in a small bowl – add to the large bowl of soaked oats.
Step 5 – Add liquid ingredients. Whisk together the oil, eggs, honey, and vanilla.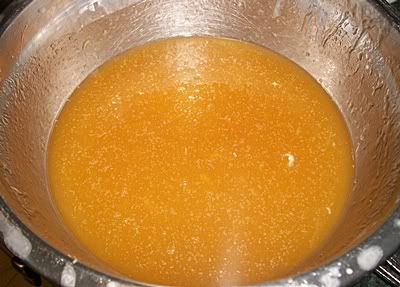 Pour the liquid ingredients into a well in the center of the large bowl of oats.  In these pictures, I was making a double batch of this recipe, so the bowl was pretty full!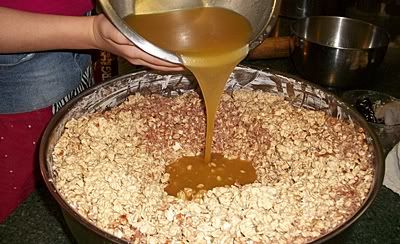 Step 6 – Mix everything together well with your hands. You could use a spoon, but it really doesn't do as good of a job – with your hands you can feel everything.  Take time to break up the clumps of soaked oats, making sure all is thoroughly coated with the liquid ingredients.  It will be sticky!  That's good – because that makes it crunchy!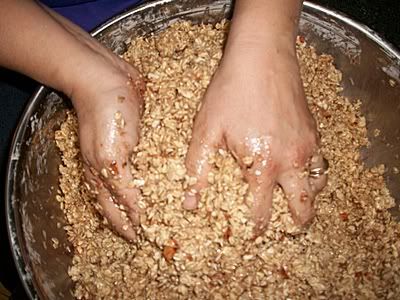 Step 7 – Spread on pans/trays to bake/dry. Spread on baking pans, cookie sheets, or dehydrator trays, depending on how you are going to bake or dry it.  This goes a lot faster – and is especially fun – if you have lots of cute little helpers.
The granola mixture will be sticky – spread it as best as you can and not too thinly.  This is what it will look like before drying/baking.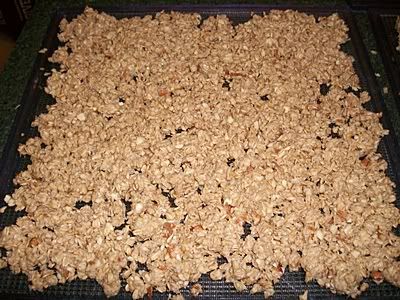 Step 8 – Bake or dry the granola until crunchy and crispy.
Oven method – Bake at the lowest temperature possible (170°-200° F) until the granola is dry.  If possible, turn the granola over halfway through to make sure it gets completely dried.  If you don't want big crunchy clumps, you may stir it.
Dehydrator method – I use my 9-tray Excalibur dehydrator to make granola – a double batch of this recipe will fill 8-9 trays.  Dry at 145° for 12-16 hours (or longer – times may vary) until it is thoroughly dry and crisp.  If you are making this with raw, organic ingredients, you may dry it at a lower temperature (115°) to minimize enzyme loss.  It will take much longer at that temperature.
Step 9 – Add dried fruit, if desired, and store in a cool, dry place. This granola is delicious with or without fruit.  After the granola has cooled, add whatever fruit you like, in whatever quantities you prefer.  You can add the dried fruit before storing it, or add the fruit when you serve the granola.  For some suggestions of dried fruit amounts and combinations, see my original granola recipe.
You can store the granola in any airtight storage container.  I've even used 5 gallon buckets before!  Refrigerated/frozen storage is optional – if the granola is very dry it keeps quite well on a shelf – ours doesn't last long enough to be concerned.
Step 10 – Serve and enjoy! Have some granola in a bowl with milk or kefir.  Sprinkle it as a topping on yogurt or ice cream.  My children like to fill their cups (or hands or pockets!) with it for a crunchy snack.
Linked to:
Tasty Tuesday
Tuesday Twister
Tempt My Tummy Tuesday
Real Food Wednesday