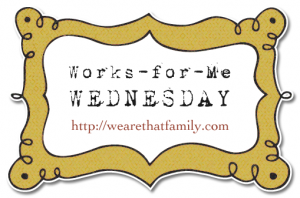 Have you ever read through the entire Bible? I have a few times in my life, most recently with Mom's Toolbox using the Bible in 90 Days schedule – I finished in 80 days.
We decided to keep reading through the Bible, though at a slightly slower place – about half, to be exact. I searched for a 180-day reading plan, and didn't find one that suited me. So I made my own – with a little help from the customizable Bible reading software that comes with Balancing the Sword. I carefully went through the suggested schedule generated by that program, tweaking it so readings don't end in the middle of chapters, and a few other things.
The file is available by clicking on the following link:
You'll need Adobe Reader to open it (it's a free download). Then you can save it to your computer, or print.
Check out other tips that work for me.